Firefox used to be my favorite browser once upon a time though not anymore. The browser is extremely slow and I see a number of my friends still using Firefox. I have nothing against Firefox and in fact, I have been a Firefox user for almost two years after switching to (Opera | Chrome) because of its high memory footprint which would leave my computer crawling miserably.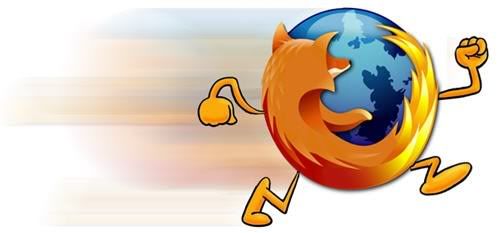 The interesting thing here is that the fact that Mozilla Firefox is slow has been accepted by Mozilla and their support team has come up with these tips to speed up Firefox. We have seen uber suggestions earlier, one suggested using a ramdisk as Firefox cache. This is rather simpler and requires you to check the environment your Firefox is running in.
Rogue extension and themes, broken hardware acceleration
The base setup of a Firefox is slow in itself. On top of that, some extensions slow it down considerably especially affecting the startup time. Firefox has a list of 50 rogue add-ons that slow it down and have been showcased in the Firefox hall of shame. You can check this list to determine if you are using any of these. Some popular ones included in this list are Firebug (#2), FoxyTunes (#3), Tab Mix Plus (#5) and Delicious Bookmarks (#7). This is only a list of extensions.
There are more personas and themes that are bottlenecks. You need to find them on your own. How do you do it? Use the good old trial and error method. Disable all extensions, and start enabling them one by one and check how the  slowdown grows.
At times, the graphics driver installed on your computer might not be suitable to run Firefox hardware acceleration. Update the graphics driver and if that does not help, disable hardware acceleration. Here is how to disable hardware acceleration.
Firefox hangs and the hourglass
Firefox hangs too often. Oftentimes it is because of a large history or a huge number of bookmarks. Clear your browsing history. Click ctrl+shift+del and selectively delete stuff. A huge number of bookmarks also slows down Firefox. Look for a bookmark backup solution. Firefox sessions are not quite effective and hang if there are multiple session files. Best suggestion, store only a few sessions.
Script taking too long to load
There is no solution to this problem. Firefox JavaScript rendering engine is slow and if you are a Firefox user, you have acceptance for that fact.
Windows update has a specific fix for hardware acceleration problems. Install the update KB2505438 from Windows Update and your hardware acceleration problem might be solved.
Verdict
If you are a Firefox fan, please don't get offended by the next few lines. Move to a faster browser like Google Chrome or Opera and experience the difference in speed. If it does not suit your taste, you are free to come back to Firefox anytime and experience the different in speed again. Try out these tweaks and check if Firefox is any faster.